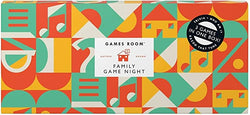 Chronicle Books
Family Game Night Set
Games Room Family Game Night Gift Set by Chronicle Books
PERFECT FOR AT-HOME OR ON-THE-GO: Whether you're at home, on a vacation, or at a family reunion, these games can be played anywhere.

GREAT VALUE: This set includes three games, complete with six kazoos and six pairs of glasses, all in one package!

EASY TO PLAY: All three games are quick and easy to play, no complicated instructions necessary.
Take a shot on these, we know you want to!