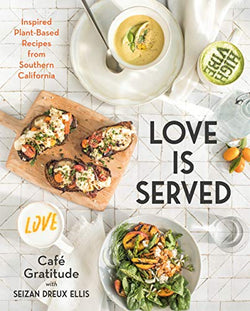 Before it was a fixture on the L.A. dining scene and a magnet for celebrity diners, Café Gratitude was founded in the Bay Area with the simple ethos that joy derives from loving and being grateful for food, health, and good company. The dishes are named to double as affirmations of self. "I Am Fearless," "I Am Humble," and "I Am Open-Hearted" nod to the restaurant's core belief that food is just as much about spirit as it is about appetite. Since then, the café has evolved quite a bit. It's changed locations, expanded, and been the backdrop for more paparazzi shots than one can count. But the founding principles have remained the same, and the food continues to celebrate the flavors of plants with organic, from-scratch, and healthful ingredients free of animal products, processed soy, and, in almost all cases, refined sweeteners.

Now, with Love is Served, Seizan Dreux Ellis, executive chef at Café Gratitude, brings Gratitude-quality meals to your table and the soul and mission of the restaurant to your home. Indulge in café favorites "I Am Awakening" (Raw Key Lime Pie) and "I Am Passionate" (Black Lava Cake) while cooking up hearty, nourishing dishes like Grilled Polenta with Mushroom Ragout ("I Am Warm-Hearted") and Radicchio, Roasted Butternut Squash, and Sundried Tomato Pesto Grain Salad ("I Am Gracious"). With unfussy methods and easy-to-access ingredients, this cookbook makes the wholesome satisfaction of the restaurant as accessible as ever for the home cook as it charms and inspires readers to change the way they look at food.
About the Author:
Café Gratitude is a vibrant global community of joyous gathering places where people come together to enjoy food and life.

Chef Seizan Dreux Ellis oversees the development and execution of the organic, plant-based menu at all Café Gratitude restaurants in Southern California. In April 2012, Dreux came to Venice, California as Executive Chef of Café Gratitude in Southern California, bringing his health-based, flavor driven cuisine to a wider audience. In 2017, Seizan received lay ordination in the Soto Zen lineage of Shunryu Suzuki Roshi at the San Francisco Zen Center.
Take a shot on these, we know you want to!