Two, Please!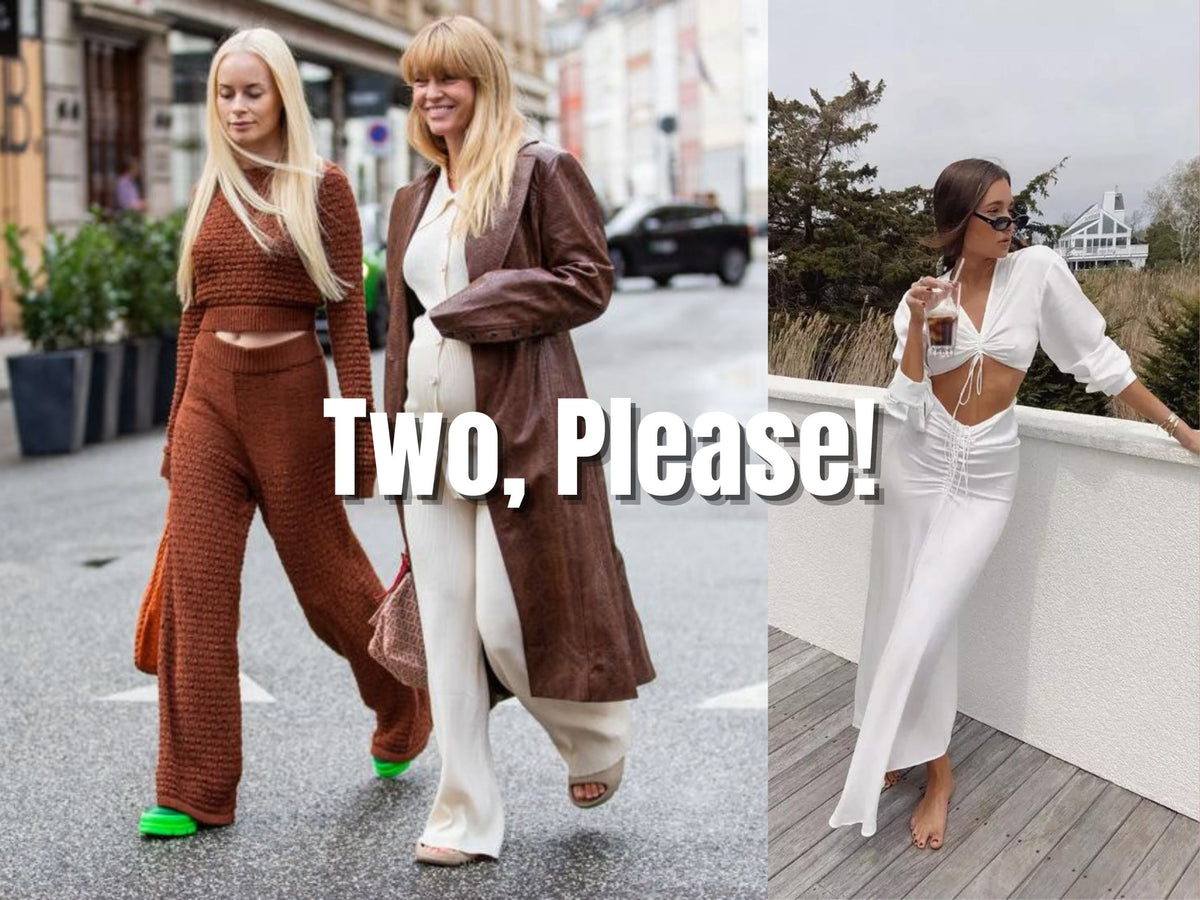 2022 has been quite the year for fashion. With 90s low jeans, bright solids, and tiny minis as far as the eye can see, sometimes we ask ourselves what is going to stick or go in the new year. One thing we know for sure is the power of matching sets. Since the 60s, matching sets have been making a statement through swimwear, two-piece dresses, pant suits, and loungewear. Continue below to see our newest dynamic duos that you don't want to miss!
The Zermatt Zip-Up and Sweater Pant by Show Me Your Mumu is your newest holiday look! Pair together to make a fashion statement at all of the holiday festivities this year. We are obsessed with the fur-lined neckline and sleeves. Mix and match this set with a neutral skirt, pants, or blazer for a more toned-down look- but who likes that anyways? Let us know how you'll wear this look in the comments below!
Taylor Swift isn't the only one who is loving red this Fall. The Red Major Blazer and DJ Cropped pants are a look we'll have on repeat. Perfect for a holiday party, drinks with friends, or the office! Pair this look with our Rye Goods jewelry to add a little sparkle to this splashing outfit!
Who doesn't love cozy pajamas? The Shearling Chic Cozy Shirt and Jogger by Dylan is the loungewear that we have been waiting all season for. We can not wait to wear this while snuggled up on our couch, tea in hand, watching Gilmore Girls for the fourth time through. Take this set out of the house to run errands, grab a hot chocolate, or walk to beaches while feeling ultimate comfort. Don't mind us if you see us wearing this four days in a row, it's just that comfy!
We love the Chocolate V Neck Crop and Skirt almost as much as we love actual chocolate (some may say even more). This is the perfect set to wear on a date night, for drinks with friends, or even if you want to have some more glamour in your life! What we love about this outfit are the endless ways to accessorize it. Mix and match with tall boots to pumps. Don't even get us started on the endless jewelry combinations this piece provides. Make sure to stop in one of our three locations before this beauty sells out!

That is it for our set feature! Visit us at our Montecito, Del Mar, or La Jolla locations to see these beautiful pieces in person! Until next week!

Xx,
Whiskey
|
Posted on November 06 2022