We're Putting a SPELL on You!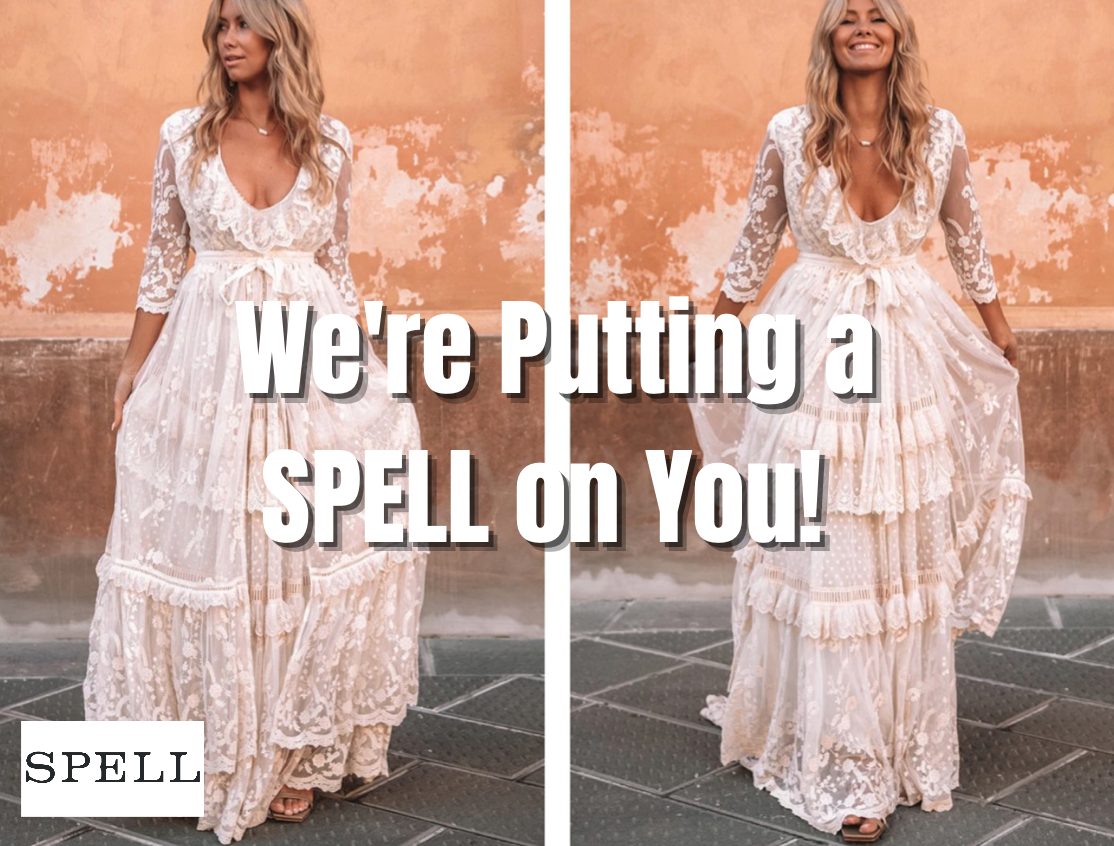 Whiskey babes! It is our favorite time of the year- a new batch of Spell has arrived and is ready to be scooped up in our stores! Spell is the essence of what it means to be boho chic. This line of clothing is show-stopping from the beautiful floral patterns, the gorgeous feeling fabrics, and the endless ways you can pair each piece- it doesn't get much better than this. Whether you've been a longtime Spell fan or this is your first introduction, come with us and explore our newest favorite pieces!
CHA CHA STRAPPY MIDI DRESS
The Cha Cha midi is a one-of-a-kind, show-stopping piece. This spaghetti-strapped dress features a patchwork style combination of exquisite patterns. Highlighting blues to pale reds to deep navvies, this piece expertly pairs tones to create a piece unlike any other. We can not wait to wear this to all of our summer soirees or while we wine taste in the country. Pair with a classic pair of chunky heels and a woven bag to complete this look.
CHA CHA QUILTED JACKET
What would perfectly pair over the Cha Cha Strappy you may ask? The Cha Cha quilted of course! This thicker piece will be your new go-to layer. Featuring cool tones of brown and creams, this jacket will fulfill all of your neutral fantasies without losing any excitement to your outfit. Pair with other Spell pieces, or on their own, to showcase how intricate the design is throughout! With our coastal locations known for bringing in the fog chill around June, this jacket will be essential to still keeping your comfort without losing your style.
NIGHTSHADE SANGRIA CORSET
The perfect corset doesn't exist..... said no one after seeing the Nightshade Sangria. This little number features one fluid floral pattern throughout. We love the way the navy base highlights the gorgeous red and pastel yellows throughout. Pair with a classic maxi or white jeans to further emphasize the colors within this piece!
CHA CHA MAXI ROBE
Our last featured piece of this collection is one of the most glamorous, the Cha Cha Maxi Robe. This robe is unlike any others. Made with incredible pastel purples and pinks, you'll feel like you're in a never-ending lavender dream. Not only can this robe be worn at home, but you can also pair it over pants and a light tee, a maxi dress, or with shorts! The ways to wear this are effortlessly endless! How would you plan to style this piece? Let us know in the comments below!
That is it for our Spell feature! Make sure to tag us @whiskeyleatehr when you wear your pieces! Run while supplies last to our San Diego or Santa Barbara locations! Until next week Whiskey babes!
Xx,
Whiskey
|
Posted on February 20 2023